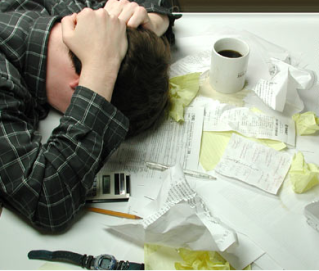 Today's post is brought to you by Nayo Carter.  She is a certified tax preparer who is SO close to also being a certified tax accountant. (Take that test already!)  Her 15 years of tax and accounting make her an expert in her field and her 7 years in Direct Sales make her a knowledgeable source for your small business.  
Technology is very instrumental in keeping good records for tax time.
Here are 5 tips to use these tools effectively and to stop stressing yourself out on January 1st.
Email – We all have email and we all do business online.  Have you ever considered setting up an email account just for your receipts, invoices and payments?  Most email providers allow you to set up folders to sort your emails, but wouldn't it be easier if when you made purchases online the email receipt is sent directly to recipets@yourcompany.com, or when you sent an invoice and receive payments the reply is sent to payments@yourcompany.com.  This helps keeps your email inbox clutter free and keeps all the appropriate documentation in one place.
Online Banking – Most of us log into our bank accounts and check our available balance daily, but if you didn't already know, your bank wants you to go paperless and save them money.  Doing so will save your sanity as well.  You can download your statements, save them to the cloud or your computer hard drive and never have to open that piece of mail again, or have your dog ruin it with its love for the taste of paper (true story).  The IRS does accept these electronic statements as documentation in case of an audit.  Not only can you download the PDF version of these statements there are several accounting software packages that will allow you to import these transactions and help you categorize them to cr
eate financial statements (we will get into this a little later).
Scanning – Still using cash and have tons of receipts? Well there are options for you too.  First you can get yourself a scanner.  There are several different types out there some of them made specifically for receipts.  If this still sounds like too much work check out www.shoeboxed.com.  This company turns all your receipts into IRS accepted exportable images that can work with your tax software (or accountant).  Shoeboxed also integrates with one of my favorite programs/apps, Evernote (http://www.evernote.com/).  Evernote is also a viable option to keep track of all your receipts, just snap a picture, add a description and label and it's filed neatly across your network.
Apps – smart-phones and tablets are a part of our daily lives.  Why not use them to the best of our advantage to keep track of mileage and expenses.
Expensify (https://www.expensify.com/mobile) can be used to create expense reports.  This app is great for the road warrior who has to keep track of mileage, meals and travel.  For your convenience they automatically pull in eReceipts from your bank. For cash purchases you can snap a picture of the receipt, the app will automatically pull out the merchant, date, and amount of the transaction.  If you get reimbursed for your expenses you can email a PDF copy of the report to be approved right away.
Mobile LogBook is a vehicle mileage log app that allows you to log business and personal trips then analyze & export your data for reporting to financial departments or your accountant. To use it, browse to http://logbook.flydigital.com.au/ on your smart-phone, no downloads needed.
Timr – Time & Mileage Tracker (http://timr.com/) also has a great app that tracks your time in the office and on the go.  It allows you to track your time instantaneously. With the built in GPS feature you can track team members and employees (with their permission of course).  This product also has a dashboard that allows you to keep an eye on billable hours, tasks and projects at a glance.
Internet– There are several cloud based solutions available to assist you with accurate recordkeeping.
Wave Accounting (http://waveaccounting.com/) is the new kid on the block for cloud based accounting solutions, but they have made a very user friendly program.  The first benefit of this program is that it is free.  They promise to keep the core product free with some paid options coming later.  This program allows you to import or link bank account transactions and click to categorize expense and income.  Not only can you keep track of business expenses but you can get a grip on your personal finances as well.  This is great for the small business owner who is still muddling their personal and business finances in one account.  They also have a feature to allow you to collaborate with your accountant to ensure you are accurately recording your transactions.
One of the more popular solutions in recordkeeping is QuickBooks.  QuickBooks has a few different options to choose from.  Each option adds a little more in features from importing bank transactions automatically, the number of report options, tracking inventory, and processing payroll. In addition to all of these options this program can be used on your smart-phone, pc, laptop, or tablet.  Check out http://quickbooks.intuit.com/finance-accounting-solutions/ to compare options.
Lastly, there is Balance Financial (http://www.balancefinancial.com/) the option for the user who wants a dedicated bookkeeper to manage regular financial chores such as bill paying, tracking and budgeting.  Not only does this site offer banking level security but they also offer at least 5GB of personal storage in the cloud.  Of course I am one of Balance's bookkeepers. Email me at nayo@1ststepaccouting.com for a personal invitation to join.
I hope these tools will keep you from collecting receipts in a shoebox from now on.  Let's all strive to be environmentally friendly by eliminating the paper clutter and tackling our biggest fear of being unprepared at tax time!
Nayo can be found on Facebook or at her website 1st Step Accounting, she provides a plethora of advice and insight.  Go 'like' her page so you can find her when you need her!